SPORTS AND TOURISTS COMPLEX
ZHREBCHEVO
tel. 0457/ 25630
GSM 0887 284689 - accountant general
Zrebchevo Sports and tourists complex is located at the foot of the Sarnena Sredna Gora mountain, on the side of the Zhrebchevo lake at a 10km distance from the high way Sofia - Karlovo - Sliven - Bourgass.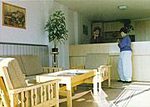 The complex has 70 beds in:
Hotel (4 suites and 7 double rooms) total - 30 beds .

3 Small houses - 24 beds.

4 Bungalows - 16 beds.
There is a colour TV set, telephone and refrigerator in every room.
There is a conference hall (50 seats) available in the hotel.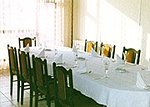 The restaurant has:
Large hall - 80 seats available. Small banquet hall - 20 seats, a spacious two-level terrace and a summer garden - 16 seats.
Day bar and summer garden - 20 seats available.
There are 2 tennis courts, 2 swimming pools and a football ground available. For the water sports lovers - sailing boats, water skiing, pedal floats, wind surfs, motor launch, boat.